Cycling is an ever-growing and ever-evolving sport. This growth has resulted in the development of a rather young branch of cycling: fat bikes. Although fat bikes can be used year-long in sandy, rocky and chossy conditions, canadian fat biking is especially pertinent in the winter time, with many mountain bike trail systems now running a year long operation, optimizing their installations for winter riding.
Ultimately, this leads to a great alternative to indoor riding and fitness maintenance throughout hibernation time.
That being said, here is an overview of everything you need to know to get you started and make the most out of your fat bike outings.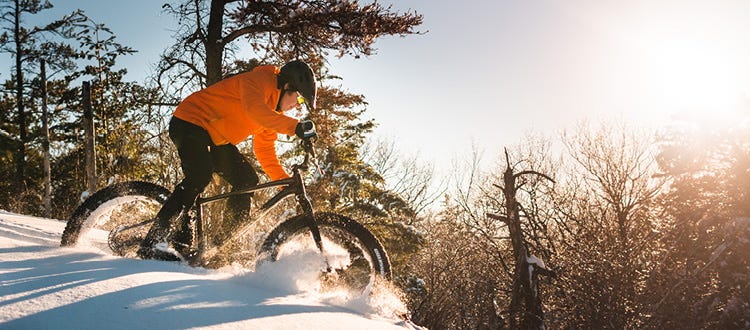 Apparel
Weather conditions are the ultimate factor in the quality of your ride and since canadian winters are so precarious, versatile clothing is crucial. We prioritize warm but highly breathable clothing to prevent it from becoming damp and therefore frozen.
Tires
Ideal trail conditions are made by cold temperatures, after a few days without snowfall. Obviously, perfect conditions aren't always a possibility, and that is where high-quality tires come in handy.
The first thing to consider is tire size and tread. A more aggressively treaded tire between 4 to 5 inches in width is ideal as this will offer maximal traction when the snow is looser due to higher temperatures or when riding over fresh snow.
Studded tires are favored for icy conditions as they offer ultimate grip. Although more expensive, the use of studs is a considerable advantage for those looking to ride as much as possible throughout winter.
Suspension VS Rigid Fork
Similarly to mountain bikes, some fat bike models have a suspension fork. Mostly designed for summer use, the front suspension will allow you to absorb rocks and roots present on the trails. However, after the first few snowfalls, the trails are completely covered in at least a foot of snow and are perfectly smooth, therefore making suspension no longer necessary.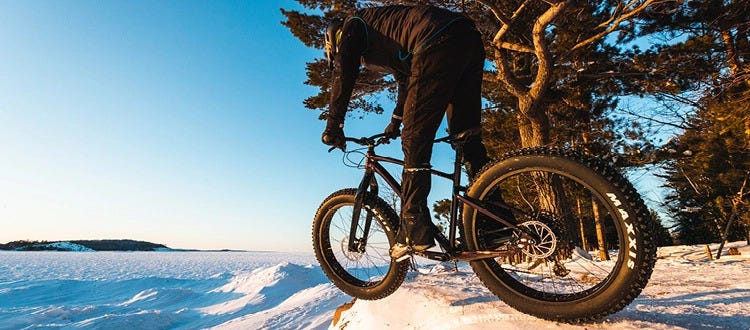 Dropper Post vs. Fixed
This is mainly dependant on where you will be riding. The dropper post is the ideal component when there are large grade changes on the trail. These inclination changes will require shifting your weight over the bike, which will be made easier by adjusting the seatpost height. A fixed seatpost is perfect if you are riding on flatter cross-country style trails.
Hydraulic disc brakes
Quality fat bikes will have hydraulic disc brakes as they offer superior braking power and modulation control. They can be grouped into two categories: mineral oil and D.O.T. synthetic oil. Mineral oil brakes (such as Shimano) tend not to fare so well in colder temperatures (-26°C) because the seal materials become stiffer. In the long run, braking will become more and more difficult due to excessive friction. On the other hand, D.O.T fluid brakes (Sram/Avid) us compound seals and will therefore remain more fluid. Most fat bikes, bar some entry-level models, will have D.O.T fluid brakes to better respond to harsh winter conditions.
Electric Fat Bikes
Electric fat bikes have an electric motor and battery that allow you ride longer with less fatigue and hit trails in more difficult conditions which would otherwise be too strenuous. Electric fat bikes are an excellent choice if you want more riding days per winter, or simply to keep up with your friends. Check out our selection of electric fat bikes in stock.
Our recommendations
Each cyclist doesn't need the same fat bike, which makes it difficult to only recommend one. Choosing a fat bike depend on the intended use, the components needed and one's budget.
Our favorites
The fully loaded: Trek Farley 9.6
With its full carbon frame and hoops, top quality componentry and the added practicality of a dropper post, the Farley 9.6 does not disappoint the bling-oriented adventure seeker. Lightweight and quick, it will make each ride an unforgettable experience.
The most popular: Trek Farley 5
Trek Farley 5 is a popular choice among the fat bike enthusiasts as it combines an affordable price with great components, such as studdable Tubeless Ready Gnarwhal tires and Sram hydraulic disc brakes, for superior braking power, in both summer and winter.
The best value: Giant Yukon 2
With its Shimano Deore 1x10 speed groupset and its dropper post, Giant Yukon 2 ensures superior performance at an unbeatable price. With its carbon fork and Sram hydraulic disc brakes, you will get the most out of each ride.
The Electric : Fantic Fat Sport
The Fantic Fat Sport has a lot to offer to riders who want to keep up with their friends, or ride in conditions that would be too strenuous without assistance. It features a suspension fork and a Sram 1x12 speed groupset for top performance and versatility.
---