The growing popularity of indoor training can be directly correlated with the infamous application Zwift.
What is Zwift?
Zwift is an application program designed for indoor training for use with a bike trainer. It uses a video game-like design to bring riders through a virtual world with near-infinite riding courses, community events and more, to help keep cyclists motivated during winter training months.
Zwift has transformed indoor training into a video game of sorts, making it a lot easier to embark in a structured training journey, in a fun and healthily competitive social environment.
Since its creation, the app has greatly evolved, now including more maps than ever, more bike and gear choices, steering options, races & events, specific training plans, and much more. Simply put, there is something for everyone, which makes it more attractive than ever.
While it may seem complicated to get started, the application itself is actually very straightforward and user-friendly, with the end goal of getting you on your bike as quickly as possible and in the best shape possible once summer comes around.
Nonetheless, here is a step-by-step guide to get you going.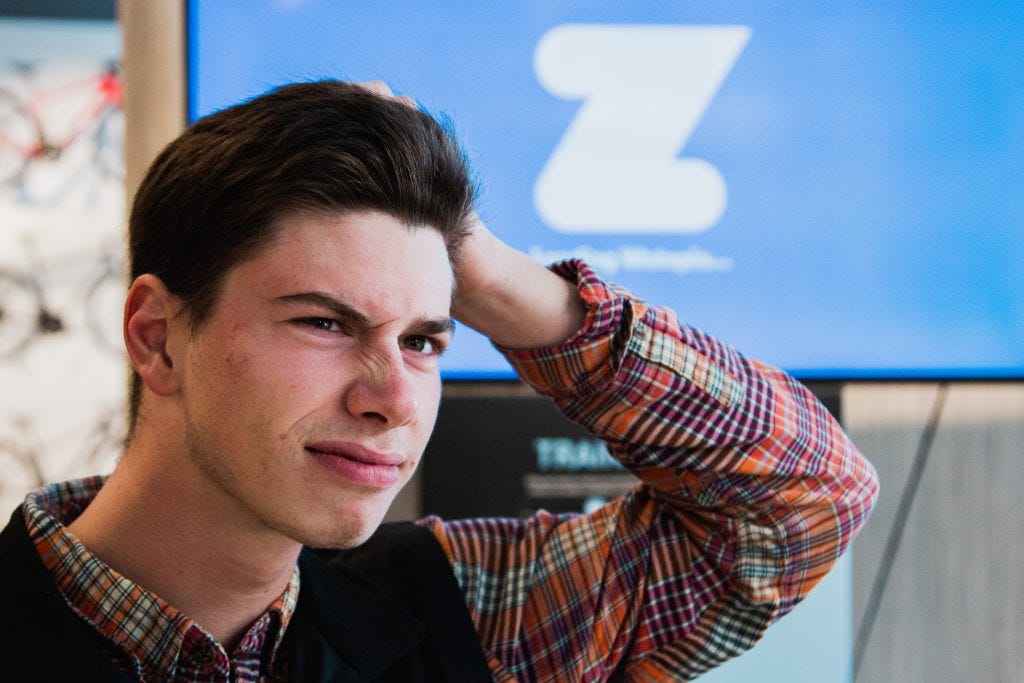 Hardware
Most obviously you will need a indoor bike trainer. This can be a direct drive trainer, a smart wheel-on trainer or simply a basic trainer with speed/cadence sensors. In any case, you will need some form of connectivity in order to transmit your pedaling data to the application.
Not sure which trainer is best for you? Check out our other blog post to help you make the right choice for your needs. Have no idea where to start with indoor training? Check out all about indoor trainers and winter training. .
Trainers use either ANT+ or BLE (Bluetooth) to transmit data. If you plan on using any type of mobile device (phone/tablet) or Apple product (Macbook, Apple TV, iPad or Iphone), the trainer will pair directly with your device.
To use a PC computer, you will require a separate antenna to pair your trainer with the computer, such as this one by Tacx.
Software
As of writing this article, Zwift's monthly membership fee is 18.99+tx. The App can be found in the App store for Apple users, downloaded from the web for PC users or available on Google Play for Android. Some trainers include a 30-day free trial of the program.
Once you have determined your device, and if necessary, connection intermediary it is time to connect the trainer. Upon opening Zwift, you will face a 'Devices' menu, in which you can choose which external devices to connect. If you have connected your trainer beforehand, they will automatically link up. This menu also allows you to connect external speed, cadence, heart rate or power sensors.

*Notice : When using bluetooth, make sure your trainer is not connected to a background app, as it will not be discoverable by Zwift simultaneously (ex. Tacx Training software used for calibration)
Time to ride!
The next menu you will see is the ride menu. This is where you will choose the route and the 'world' you will be riding in. As of writing this article, Zwift allows you to choose between three of it's 7 total worlds. Such worlds include the fictitious Watopia, London, Innsbruck, Richmond and more. The real-world route maps are based on past years' World Championship routes. The available worlds in which you can ride will change everyday, according to the calendar on the right of the screen.
This menu is also where you can choose to follow a structured training ride, an organized group ride or to join a rider who has started before you.
Once you have clicked Ride, you're good to go! While you are on a predetermined course, you can ride freely and choose your way through intersections and different areas of the map, in whatever direction you wish.
Welcome to the wonderful world of Zwift!
If you have more questions and want to dive deeper into the Zwift rabbithole, don't hesitate to drop us a line at web@primeauvelo.com or visit us in store!
With Primeau Vélo, you can order your indoor trainer online and get free shipping all across Canada. Check out our wide selection of indoor trainers and accessories; everything you need to make some gains this winter. Primeau Vélo also has retail locations across Québec. Primeau Vélo, Canada's #1 bike shop!