Primeau Vélo: a family business
Primeau vélo started in 1928, when Lucien Primeau opened the first Primeau Bicycles store on rue Rouen, in Montréal, Canada. In 1957, his son, André Primeau also opened his own store on the south shore of Montréal, named Primeau Cycles & Sports. When André retired 20 years later, this business was sold. André's brother Pierre opened the first Primeau Vélo in Laval in 1974.
1947 - Primeau Bicycles on rue Rouen in Montréal (exterior)
1947 - Primeau Bicycles on rue Rouen in Montréal (interior)
1990 - Primeau Vélo in Pont-Viau (Laval)
Éric Primeau: the third generation take over
André's son and Lucien's grandson, Éric Primeau started working as a mechanic at Primeau Vélo Laval in 1986. There, he developed his passion for cycling, which combined with his entrepreneurship, led him to take over the business. In 1988, things fell into place for him, as his father stepped out of retirement to help him open a new Primeau Vélo store in Brossard. Éric is the third generation in the Primeau family to lead in the cycling business.
Éric continued to develop the business by acquiring his uncle Pierre's store in Laval in 2009, and then launching an online store in 2016. The Blainville store, built and opened in 2018, is Primeau's head store and office. Between 2015 and 2019, the number of employees went from around a hundred to 200. With more than 30 years of exprience, Éric now leads 3 stores in the Greater Montréal Area, and 3 stores in the Québec City region.
Since 2014, Éric has been associated with David Normand, who is both shareholder and general manager. David started working for Primeau Vélo in 1995 and now has a solid bond and partnership with Éric, one which is bound to last.
Primeau Vélo has been one of the leaders in the Canadian cycling industry for the last few years and holds the title of Canada's #1 Trek retailer since 2019.
2019 - David Normand (left) and Éric Primeau (right) accept the title of Canada's #1 Trek Retailer.
2018 - Start of the construction work for Primeau Vélo in Blainville
One of the largest bike shops in Canada
Since opening his first store in Brossard, Éric has dreamt of building one of Canada's largest bike shops. In November 2017, his dream came true with the beginning of the construction work for the third Primeau Vélo store in Blainville. With pride and emotion, Éric Primeau unveiled this new retail location on August 27th 2018. The 22 000 sq. ft houses the administration office and web department, an ultra modern workshop and a 9000 sq. ft showroom.
Primeauvelo.com: online retail
The first Primeau Vélo website was launched in 2013, then optimised in 2016 for a better customer experience. With the new Blainville store in 2018, the web team moved from the Laval basement to an all-new office space on the second floor of the Blainville location. The 2020 pandemic was a great benefit to online sales and the web team doubled it's ranks to meet the growing demand. In september 2020, yet another update to the website was in the works, and following months of hard team work, a redesigned web platform was launched in march 2021.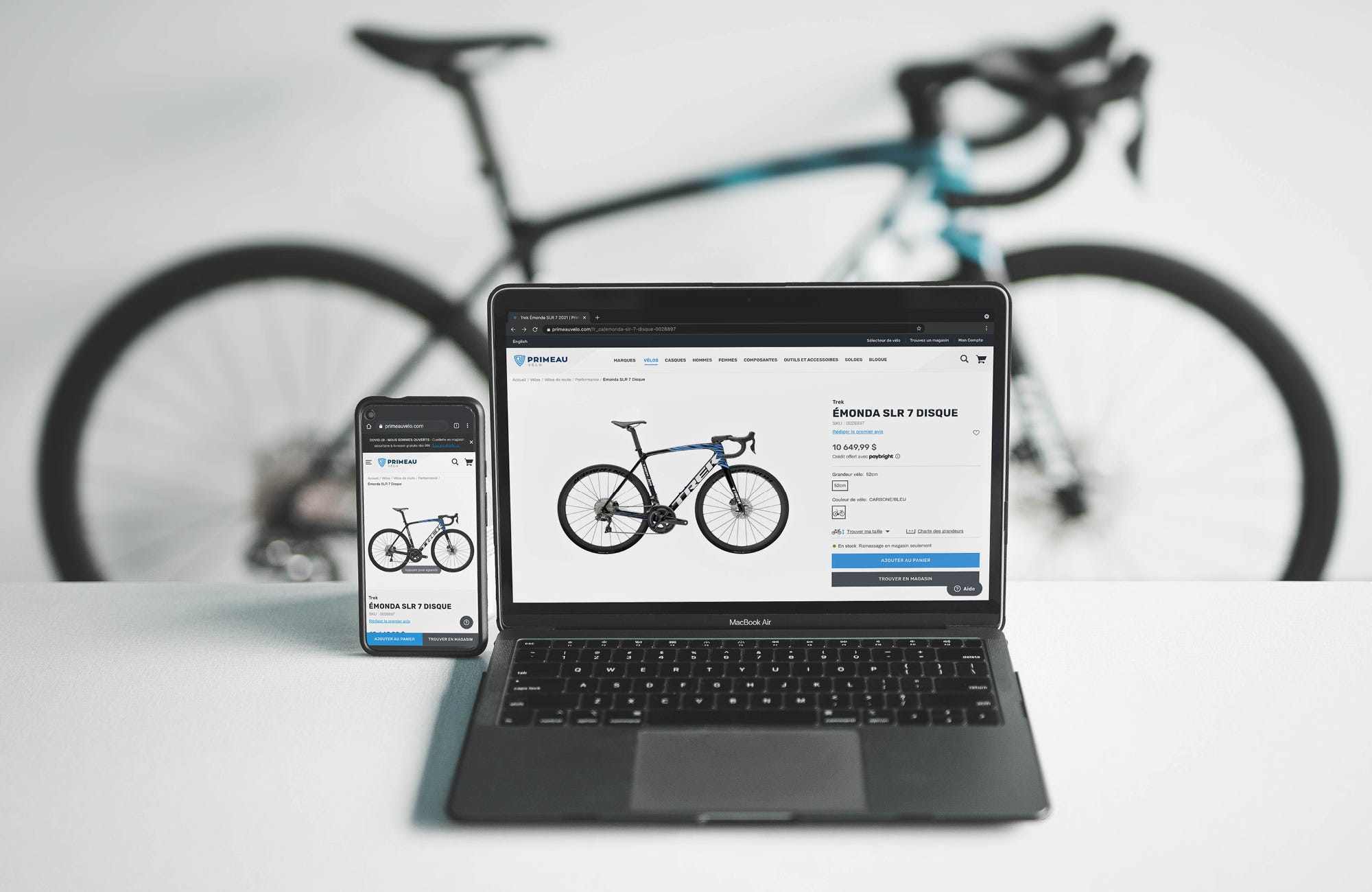 2021 - The new web platform is launched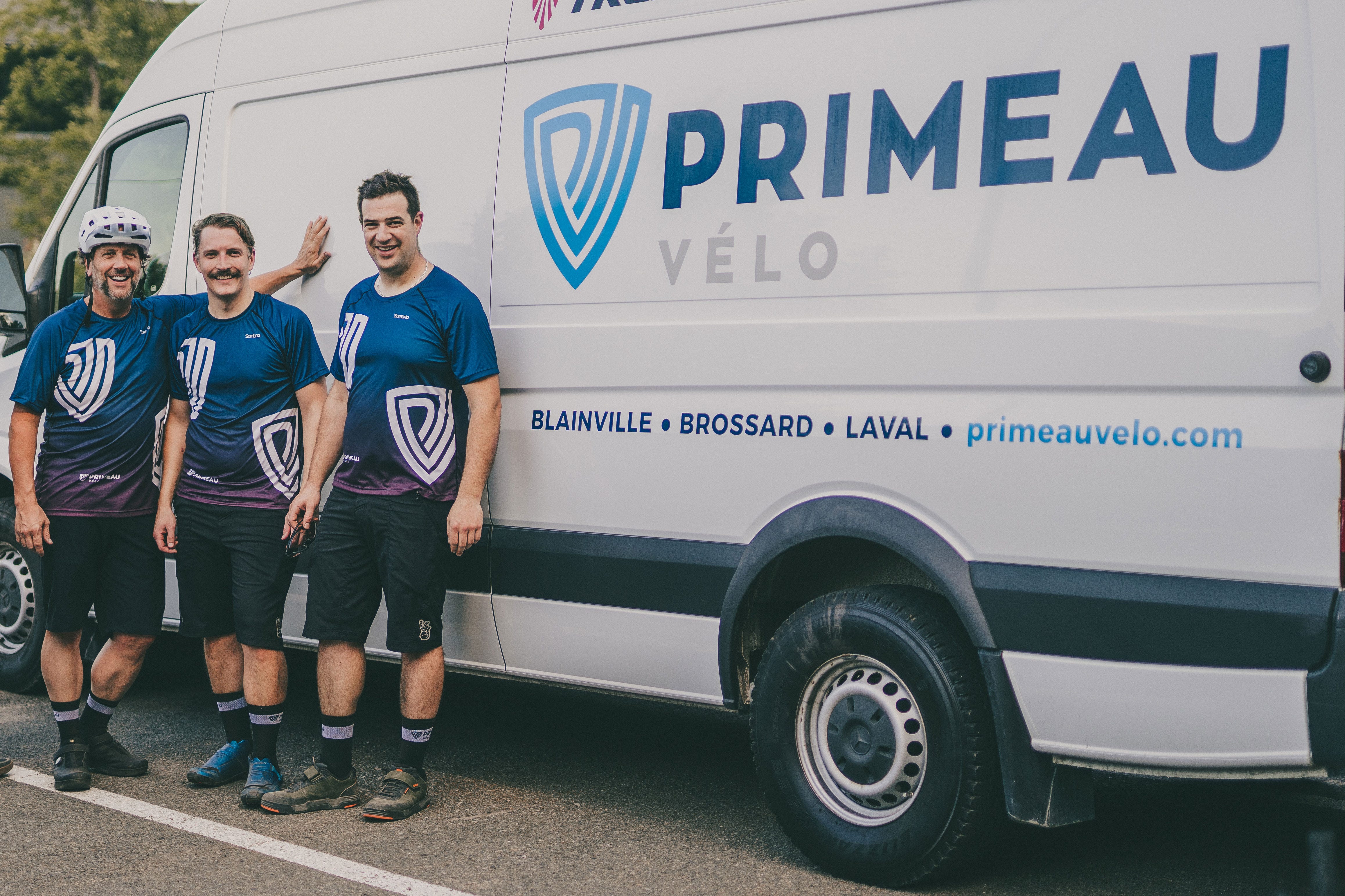 2021 - Integration of all three Sport Olympe stores with Primeau Vélo
Primeau Vélo in Québec City
Always looking higher, Éric Primeau wanted to set foot in the eastern part of the province, where the cycling community is very strong and prosperous. In january 2021, the perfect occasion came up, and Primeau Vélo acquired all three Sport Olympe stores in the Québec City region.
Sport Olympe was the ultimate choice for Québec City cyclists, being Canada's top Trek retailer in 2018, we believe that the fusion will be a success for both parties involved. Éric Primeau brought Vincent Boilard and Jean-François Houde, shareholders at Sport Olympe since 2006, as well as Maxime Lachance, Lévis store manager into the team. For multiple months, Primeau Vélo and Sport Olympe worked together to combine both businesses as seamlessly as possible. Québec City customers can take full advantage of the Primeau Vélo services starting october 2021.
Primeau Vélo is planning to move the Beauport store to a much larger and more modern location. This new location has more than 25 000 sq. ft, with 12 000 sq. ft dedicated to the sales floor, and will be unveiled in April 2022.
The fourth Primeau generation
Passion for cycling is hereditary in the Primeau family, as both Camille and Pénélope, Éric's daughters, are avid cyclists themselves. Camille, the older of the two, has stepped on the podium at Canadian National Championships multiple times, and raced the Junior Road World Championship in 2019. As for Pénélope, she won the Québec Provincial Champion title in 2020. Today, both daughters race with the DEsjardins-Ford cycling team, while keeping up with their studies and working in the family business since 2018 and 2020 respectively.
2019 - Camille, Éric and Pénélope Primeau, 3rd and 4th Primeau family generation
2019 - Camille Primeau at the World Road Junior Championships
2020 - Pénélope Primeau wins gold at the Québec Road Provincial Championships
2023 - Éric Primeau with Primeau Vélo Racing Team during their launch party
2021 - Éric Primeau and Christine Gillard, Desjardins-Ford cycling team director
Activities and affiliations
Eager to share their passion for cycling, the Primeau Vélo founders have worked with and started multiple organisations and clubs:
Bicycologues de Brossard, started in 1989 by André Primeau organize recreational rides and works for safe practice of the sport;
Vélo Détente, founded in 1997 by Pierre Primeau, has multiple group rides for its members;
The Groupement Action Vélo Plus (AVP), founded in 1987 by Pierre Primeau, is a network of cycling retailers in the industry;
Primeau Vélo is also associated with multiple clubs and cycling teams, to support young Qébec athletes:
Club Cycliste Espoirs de Laval and Espoirs Elite, a well-known development team that has supported multiple renowned athletes, sponsored by Primeau vélo for 10 years, up until 2020;
From 2020 to 2022, Primeau Vélo was associated with the Desjardins-Ford cycling team in the Québec region, which helps support young athletes on the international scene.
Starting in 2023, Primeau Vélo sponsors the first all-feminine UCI cycling team in Quebec and the largest all women's cycling team in Canada : Primeau Vélo Racing Team. In addition to its 9 UCI level athletes from across the country, the team also helps the next generation with the Primeau Vélo Development program. Made up of 10 senior and junior athletes, the goal is to showcase their talent and help them progress through a competitive environment.
2023 - The Primeau Sisters in the Primeau Vélo Racing Team
2019 - Éric Primeau cheering for Espoirs Élite Laval
Éric Primeau talking about Primeau Vélo's history