With their many features, modern cycling computers are very popular amongst cyclists. GPS connectivity lets you record your rides by tracking you on the bike, while some computers even offer GPS navigation, allowing you to explore new roads with ease.
They are also dedicated training computers with Bluetooth and Ant+ connectivity, meaning they can be paired to most speed, cadence and heart rate sensors, as well as power meters. The data displayed on the screen can be organised in any way you like. Your training data is then synced to the platform of your choice, such as Strava, Garmin Connect or TrainerRoad to you to motivate yourself, organise your training or simply satisfy your curiosity. What's more, recent models allow you to stay connected by viewing desired notifications, such as text messages, incoming calls, emails, and more.
GPS Computers VS Smartphone
While GPS computers might be better suited for riders with training goals, smartphones will perfectly fulfill the needs of recreational riders.
When a cycling app is installed on your phone, it registers your data the way a GPS computer would. You'll need to get a mount in order to secure your smartphone on the handlebar, such as the Nite Ize Handleband II Smarthpone Bar Mount. However, these apps can be energy-consuming and might limit your ride time.
Because most smartphones only offer Bluetooth connectivity, you'll need to choose compatible sensors. For example, the Wahoo Blue SC speed and cadence sensor is compatible with recent iPhone and Android models. An important thing to note is that since screen brightness is more limited on cell phones, visibility might not be as good in very bright conditions.
On the other hand, GPS computers use a battery designed to last longer so you can fully enjoy your long rides. Recent models are compatible with both ANT+ and Bluetooth technology, so you can choose among a large selection of sensors. Also, they have a more robust construction and their screen are sealed for a better resistance to shocks and rain.
This allows you to keep your smartphone in your pocket, close at hand in case of an emergency or for a quick picture of a breathtaking landscape.
Garmin novelties
This summer, Garmin started off with a bang by launching its new Edge 530 and Edge 830 GPS computers. Improvements were made to better meet the needs of riders:
Screen size has increased by 13%, more precisely from 2.3" to 2.6";
Battery life was upgraded from 15 to 20h for even more time on the road;
Processor speed was optimized to display maps faster so you never have to miss another turn;
ClimPro technology shows the different climbs on your programmed route, their elevation, and the remaining distance so you can better pace your effort;
It also takes into account temperature and altitude for more precision when comparing your performance and recovery metrics;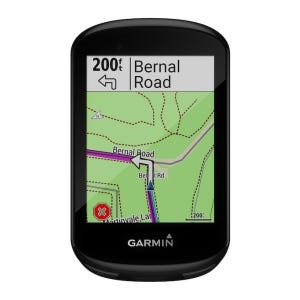 Edge cycling computers were also tailored for mountain biking with the new Jump technology. It records the number of jumps, their distance, as well as your air time. The fluidity of your descent (Flow) as well as the difficulty of your ride (Grit) are also evaluated. What's more, Garmin added Trailforks, a database of mountain bike trails from 102 countries.
The Edge 830 offers even more features like a reliable touch screen, and the possibility to enter a specific address. The Edge 530 only allows to select a route or a place on a map.
Depending on your needs, you can either buy the training computer as a unit, or the computer with sensors as a bundle. It is available in 2 versions: road or mountain. The road bundle includes speed and cadence sensors as well as a heart rate monitor. On the other hand, the mountain bundle features a silicon case to protect the computer, a mount specifically designed for mountain conditions, and an Edge remote that lets you control your computer without removing your hands from the handlebar.
Our recommendations
Choosing a computer depends on the intended use, the features needed and one's budget. If you are more of the touring type, a detailed map and long battery life are important, whereas if you are a performance cyclist a more compact and training-oriented model is a better choice.
Our favorites
The fully-loaded: Garmin Edge 1030
Garmin wins this title hands down thanks to the Edge 1030. It allows a complete analysis of performance and unbeatable navigation. It is at the cutting edge of technology and can be customized by displaying the desired information or by adding widgets.
The most popular: Wahoo Elemnt Bolt
Available in 3 different colors, the Elemnt Bolt is a favorite amongst performance cyclists. It features excellent aerodynamics, is user-friendly, and allows quick display changes depending on what you want to see. It even incorporates electronic speed systems.
The most affordable: Lezyne Mini GPS
In short, a GPS computer is a practical training tool that allows you to track your performance and mileage. It is also very useful when we want to explore or ride unknown trails.
---
Visit our stores in Blainville, Brossard and Laval to discover our large selection of GPS computers. Our experts will gladly help you find one that will meet your needs.